Undergraduate Research Awards
Congratulations to all the Visual Arts Undergraduate Students who received Research Awards.
The awardees and their project titles:
Raychel Thress, The Movement of Otherworldly Creatures
Octavia Ashton, Two Passions in One
Taylor Steen, Her Father Is Waiting: An Animated Graphic Novel
Emilia Cieslak, 3D Printing Workflow and Production for Stopmotion
Art history and Museum Studies student:
Brianna Harper,  An Astrological Analysis of Hilma af Klint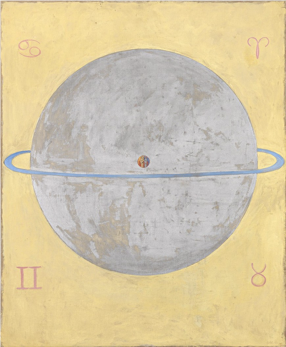 Hilma af Klint, The SUW/UW Series, Group IX/UW, The Dove, No. 12 (Serie SUW/UW, Grupp IX/UW, Duvan, nr 12), 1915. Oil on canvas, 155 x 129 cm. The Hilma af Klint Foundation, Stockholm. Photo: Albin Dahlström, Moderna Museet, Stockholm
Briana Harper:
I will be analyzing the works of abstract painter Hilma af Klint. Klint created her art unconsciously, guided by spiritual forces. I will decode the hidden meanings of her art, using astrological archetypes as a method of analysis. My intentions are to bring attention to a powerful, yet unknown female artist.
Emilia Cieslak: My project is to research and learn puppet fabrication, 3D printing, and animation workflow. This is the first step in a larger goal of producing a short stopmotion film about the struggles of depression and suicide in a family member, especially when one has depression and suicidal thoughts themselves. My research for the URA will explore 3D printing to create replaceable faces to better get across difficult emotions in stop motion, as well as creating puppets using armatures and cast silicone. I will complete the research during the next academic year, which will set me up to produce and finish the film in full as my capstone senior project in the fall of 2020. I'm using a script I have written beforehand as the bases of the animation's story.