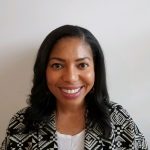 Undergraduate Program Coordinator
410-455-2219 FA 108A
Brittney McGowan is a new member to the Visual Arts Department at UMBC. She brings her background in both the visual arts and higher education administration into her role as program coordinator. She is originally from Southern California and has dedicated her career to the advancement of the arts and education.
After graduating with her Bachelor's Degree in the Practice of Fine Arts, she attended a year long intensive fine arts program in Aix-en-Provence in the South of France at the renowned Marchutz School or Art, where she was immersed in the practice of art, art theory and art history. She continued her studies receiving her Master's in Education, focusing on higher education administration and policy. Bridging both art and education, she explored teaching at the elementary and high school level, as well as serving at varying institutions of higher education in administrative roles, in particular as the Assistant Director of Admissions at the Corcoran College of Art and Design.
Brittney's personal artwork focuses on Black identity and portraiture paintings and drawings. She continues to practice art and in her spare time creates commissioned portraits, graphic designs and paintings, as well as conducting sip and paints around the DMV area.
Brittney Stephenson received her B.A. from the University of California, Berkeley and M.Ed. from the University of California, Riverside.