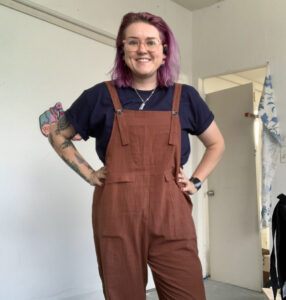 Beth Yashnyk
Program Specialist
Visual Arts
410-455-6597 FA 108B
eyashnyk@umbc.edu
As the Program Specialist in Visual Arts at UMBC, Beth assists and supports the Intermedia and Digital Arts MFA Program, as well the Foundations, Graphic Design, and Art History & Museum Studies Undergraduate Programs.
She is an interdisciplinary visual artist living and working in Baltimore City. Originally from New York, she earned a BFA in Printmaking from the State University of New York at New Paltz. She moved to Baltimore in 2016, and earned her MFA from the Mount Royal School of Art at Maryland Institute College of Art in 2018. Her work has been exhibited throughout the U.S. and abroad.