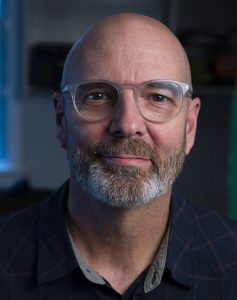 Lee Boot
Affiliate Faculty
Cinematic Arts
Director
Imaging Research Center
410-455-8444 ITE 101F
boot@umbc.edu
Lee Boot is a media artist and researcher. He is Director of the Imaging Research Center, and Affiliate Associate Professor of Visual Arts and Computer Science & Engineering at UMBC. His practice involves bringing values, modes and methods from the arts into multidisciplinary teams addressing serious societal challenges such as substance misuse, low education achievement, healthcare and the epidemiology of pandemics. Such teams work to develop and test new approaches to the configuration of technology, and to the design of media and visualization forms and content. The goal is often to change the nature of how we as a society address these challenges from a technocratic approach to one that relies on insights from the arts, such as the central role of narrative and aesthetic experience in helping shape and navigate culture and identity, which in turn determine much of what we choose to do in the world. He develops his approach to these projects through the practice of painting.
Lee's work has been sponsored by federal agencies such as the National Institutes of Health, foundations including Surdna and the Robert W. Deutsch Foundation, and has been commissioned by the National Academy of Sciences. His work has been broadcast, screened, and exhibited nationally and internationally at venues including the Johannesburg Biennial in South Africa. His feature film, Euphoria, about the cultural, behavioral and scientific aspects of the pursuit of happiness won the Gold Award for documentary at the Houston International Film Festival in 2005. His findings have been published in journals and presented at conferences on art, education, new media and digital communications.
Professor Boot holds an M.F.A. from the Maryland Institute College of Art and a B.F.A. from Syracuse University.